The program will be adapted to the focus of the student's subject (e.g., International Studies, Multicultural Studies, Media Studies, Religious Studies, Art, Peace Studies).
Special accreditation requirements of the university departments will be considered.
Formal discussions covering local history, customs and religion, based on a reading list
Question times with local students and lecturers from Universities in Rabat, Fez, Ifrane, Tanger and Marrakech.
Group sessions on cross cultural issues (e.g. "culture shock", "integration process", "cross-cultural misunderstandings").
Reflective writing exercises.
Please see following page for relevant academic resources
Please see following page for program elements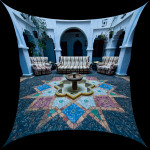 Morocco Exchange is a non-profit organization developed in response to the current world political situation and is an initiative of the cross-cultural organization Crossing Borders Education. Morocco Exchange works in collaboration with the Langcom Institute, the Asociación de Programas Universitarios Norteamericanos en España (APUNE), the University Hassan II in Rabat, the Moroccan Association of Teachers of English (MATE), the Dutch Institue for higher education in Morocco (NIMAR), the Ecole Superieure Roi Fahd de Traduction Tangier, and with NGOs such as the DARNA women's center in Tanger, the Masal youth project in Salé, Chaouen Rural, the World Women's Banking (WWB), and the High Atlas Foundation (HAF).
Some of the American study abroad programs in Spain (organized by APUNE) that are working with Morocco Exchange: Arcadia, Boston College, Boston University, Central College, CIEE in Sevilla, IES in Granada, New York University, Syracuse University, and University of California.
Advisory Board: the following individuals are acting among others as supervisors in the development of the Morocco Exchange programs: Professor Almudena Ariza / Syracuse University, Professor Kathryn Miller / Stanford University, Professor Dwight Reynolds / UC Santa Barbara, President Abdellatif Zaki / Langcom, Professor Ali Azeriah / Ecole Superieure Roi Fahd de Traduction Tangier, Former US diplomat Wilford H. Welch / Columbia University.